Dec 2, 2021
THE IRONMONGERS' HALL, Barbican, London

The Venue
The history of the Ironmongers' Company dates back over 700 years with its roots in the iron trade. It is one of the Great XII livery companies.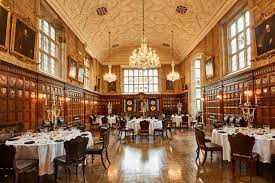 It has occupied four previous halls, the last destroyed by a bomb dropped during World War I.
The present Hall stands on land which was bought in 1922 and was opened on 17 June 1925.
Henry Bessemer was not a member of the Company, as the Ironmongers do not admit members if they belong to another livery. Sir Henry belonged to the Armourers and Brasiers where we held our Award Dinner three years ago.
Lifetime Award to Warren East
CEO of Rolls-Royce plc
Warren probably counts as the UK's most respected engineering CEO, with a global reputation as a manager. After earning a degree in engineering science from Wadham College, Oxford, he joined Texas Instruments, where he worked for 11 years before joining ARM Holdings in 1994. He was appointed CEO of Arm in October 2001 which he held until 2013 when he was succeeded by Simon Segars. In 2014, among other non-exec roles he became a non-executive director of Rolls-Royce Holdings. In April 2015, he stepped forward to take on the mantle of CEO (the same date the Bessemer Society was conceived..).
A Lifetime Awardee embodies the Bessemer Spirit!
Dr Stephen Bennington, a Founding Council member, explained the idea behind the Award, and the criteria by which the Lifetime Fellowship Award is decided:
The criteria for the Award:
Founded or runs a UK based manufacturing-oriented high technology company
A fusion of technical and business acumen
Leadership and entrepreneurial spirit
Resilience and tenacity in pursuing goals
Already achieved significant success / progress
A keen sense of moral and ethical purpose
Award Ceremony
Stephen Bennington (below) explaining the Award, watched by Warren East with Sir Robin Saxby sitting to his right. Following this, Sir Robin made the Award to which Warren responded after with a fascinating talk.
Preparation for the Award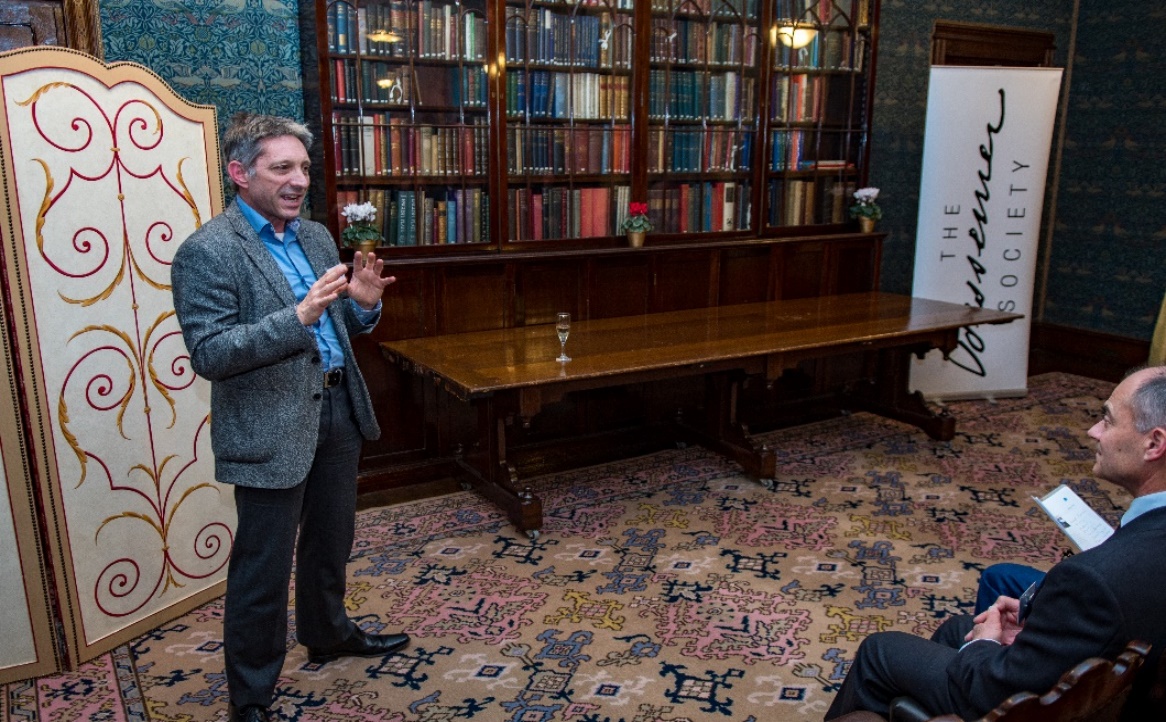 SIR ROBIN'S INTRODUCTION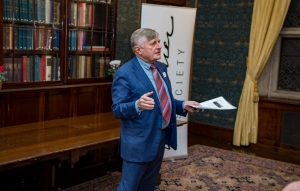 We were thrilled that Sir Robin Saxby could give the Award since he and Warren had shared together developing Arm into the powerhouse it has become. In the conversation they conducter after dinner those early days were recounted more fully. Robin mentioned their early careers, having both worked for American semiconductor companies (when it was America not Asia which dominated) – Motorola in Robin's case and Texas Instruments in Warren's. Reflecting on the changed world order, Warren described it as a trade war between the USA and China, but "every problem is an opportunity, so there are some real opportunities still".
Turning back to Warren, he gave him a glowing report, beginning by describing him as a "good, solid human being" and a great successor as Arm's CEO. Here he pointed out how different stages in a company's growth require different skills: Robin might be considered the visionary entrepreneur, while Warren more of a details' person.
Robin then went on to list Warren's personal qualities: his character (modest, considerate, practical and honest); people skills (intelligent, team worker, hard-working, and sense of humour); and management qualities (attention to detail, responsive, tough.). He was happy too that at Rolls-Royce Warren is making things, commenting that growing up in Chesterfield, he would see Bessemer steel converters still working at the steelworks; and that his uncle worked at the Derby factory of Rolls-Royce, so manufacturing is also part of Robin's heritage, and why he calls himself an engineer.
WARREN EAST'S RESPONSE
Warren commented that his last talk to us, in 2019, might be considered a mid-term report, which implied that now he was going to give us a full-year report (also suggesting perhaps that his or the main work had been done..).
Modestly, or honestly, he did not think he could claim to be an entrepreneur (that title belonged to people like Robin). He had looked at starting companies (but they never started, which only validates the point). Instead, in the early days at Arm he saw himself helping the founders to grow what he called a "promising sapling". What had appealed to him was the tremendous vision the company had. He was proud too it was "flaky" and could weather the crazy valuations of the dot.com bubble.
He likened business to competing in a triathlon in which there are three stages, each in its own right gruelling. After listing its shares, for example, Arm had to weather profit warnings, on two major occasions, one of which included a hostile City reception to a strategic acquisition. All that is in the past though with the market for semiconductors forecast to reach $1trillion, in which Arm will have a major share. He had confidence when he left Arm nine years ago that it was on track for this kind of success.
Arm was his last adventure and Rolls-Royce his current escapade, as he called them. Sustaining him in both journeys is the way engineering and technology bring great benefits to society. From Arm he learnt too the importance of collaboration; and it sowed in him the confidence that the UK's abilities should not be underestimated. Americans, for example, do not expect UK semiconductor companies to acquire US companies, only the other way around, so winning in an American environment is especially good for confidence. He took this mindset to Rolls-Royce whose main competitors are American.
When he joined, in 2015, the company was going through another period of extreme turbulence. The barriers to entry in the jet engine field are very high, so competition is limited to a very small number of companies. Within this Rolls-Royce decided some years earlier to grow its share of the long-haul market, and after tremendous commercial and technical ingenuity, it had reached 50%, but at a tremendous cost to the balance sheet, leaving huge debts. Returning to his tree analogy, Warren described how it had become a mighty oak, but with a weak root system, leaving its branches threatening to fall off. On his third day in office, the company had to announce another profit warning, followed later by the disastrous news coverage it received when engine parts fell from an aircraft over Rome (fortunately only a car was hit and there were no human casualties). It was probably his lowest point.
Thereafter, he continued, the company was able to build up its cash position, until Covid struck. It streamlined headcount from 60,000, in 2017, to 45,000; Warren is particularly pleased that this has brought down the average age of employees; and that the number of women employed has tripled.
Warren always wants to have a positive impact on society, so he is delighted with the progress of COP-26. When he joined Rolls-Royce, 96% of its products were setting fire to fossil fuels, as he put it. To change, it needed new thinking. One such new-thinker was the Chief Scientist (Paul Stein); but the Board had wanted to side line him, considering him a misfit. Warren on the other hand saw Paul (who was on hand to hear this) as a key manager to help bring in change and set the company towards achieving a Net Zero future.
The company's strategy to reach Net Zero is now very clear, but still challenging, because 100% dependability is required in the markets that Rolls-Royce serves. This applies in all the new fields in which it is working: electrification, small modular nuclear reactors, fuel cells and micro-grids. It is also actively building an eco-system as it recognises that it cannot do it all alone.
Covid of course has been a traumatic experience. The company burnt through £4bn of cash, which was all it had to hand at the start of the pandemic. The burn rate now has been reduced to less than half of this and it will achieve cash positive the year after. Warren believes the groundwork is in place to move forward again. He reflected: the company has made it through its first century; now the second century will require a revival of that early entrepreneurial spirit to ensure that bureaucracy and sclerosis do not hold it back.
AFTER THE TALK
NETWORKING GALLERY
Opportunities for networking take place before and after the Award Ceremony.
Dr Nigel Salter, foreground, a founding member, engages with Paul Stein, CTO of Rolls-Royce on his right, with Tim Harper, Bessemer's coordinator in the North of England, to his left, and Sophie Chittim of Rolls-Royce facing.
Dr Sumitesh Das, back to camera, the new head of R&D at TATA Steel UK, conversing with Bessemer member, Prakash Kumar of Air Hydro Tech Ltd, on his right.
A Cambridge group gathering: Dan Mace of Archipelago Technology, making a point to Martin Frost, ex-CEO, CMR Surgical, while John Halfpenny, Cambridge Angel, and Chris Hole, Lex Diagnostics, listen in.
Member, James Lewis, foreground, of Helix Technology Ltd, with one of his investors, Bruce Beckloff of Bloc Ventures, and financier, Tiago Alves to the right.
DINNER SEATING
THE TATA STEEL BESSEMER TALK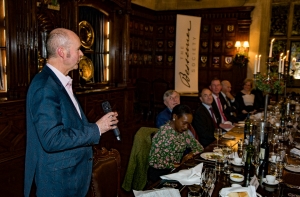 Once more we were fortunate to have Dr Chris Elliot, Head of Marketing and New Product Development at Tata Steel, and sometime expert on the life of Sir Henry Bessemer, deliver us another fascinating talk which brings Sir Henry's life and achievements into a modern perspective.
On this occasion, the theme of the talk was how Sir Henry responded to an intense experience of sea-sickness on the Channel crossing in 1868, so bad it continued for several days after his return home. Bessemer had many connections in Europe, including even the Emperor of France, so the problem galvanised his innovative spirit, and he determined to "engineer it away". His engineering solution was a method of suspending the passenger saloon on gimbals using steam-powered hydraulics so that it would correct automatically the movements of the ship.
He tested it on a rig, which accommodated 12 passengers (friends) in his London garden with a 30 degree rolling motion operating at ten cycles a minute, which worked perfectly. He then scaled it to full-size, 100 metres in length with a saloon floor of 20m x 10m; and established the Bessemer Steamship Company, as a new business venture, expecting to build many such cross-channel steamers – so a true entrepreneur.
At its first launch, in 1874, the SS Bessemer ran aground off Hull, which was not a propitious start. Undaunted he proceeded to a first trial from Dover to Calais without passengers; but this time it damaged one of the piers at Calais when the steering didn't respond. Bessemer now was worrying about the press back home, having announced loudly he would make the first commercial crossing the following month to which end he had built up considerable interest in his venture (lesson, manage expectations).
Despite the lack of time to fix the damage from the earlier trial, the SS Bessemer set off once more, in April 1875, on its first (and last) public voyage. Approaching Calais harbour, the steering control was lost again, and the steamer knocked down a whole section of the pier. The Calais municipality furiously sought damages of 70,000 francs. Worse than this though for Bessemer was the damage to his self-esteem, as a highly successful inventor and businessman and that it had caused all his fellow shareholders to lose their money. He never quite picked himself up after this, even though his steel business made him a second fortune (his other fortune came from developing a process to automate the manufacture of powder for gold foil).
The ship meanwhile continued its sorry story by running aground again on the way to the scrap yard. As Chris joked though, it managed to find several new uses: the saloon became an opulent billiards room at Hextable House; other parts were used for the lecture theatre at Swanley Horticultural College; and one of the decorative panels even turned up at an Antiques Roadshow in 2012. It may have been down but it was never completely out (like a true entrepreneur).
TALK BY SIR VINCE CABLE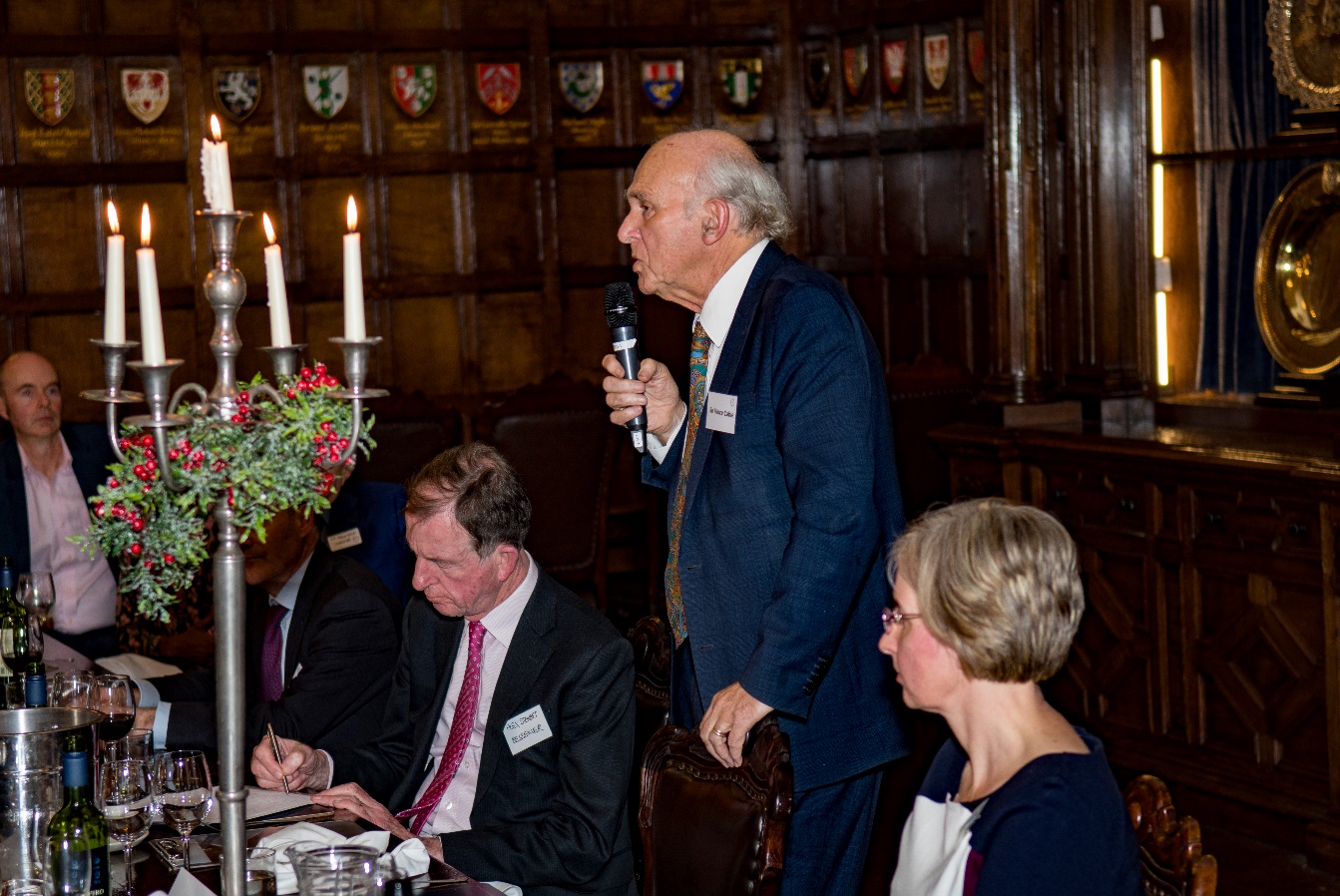 We had the honour of Sir Vince Cable joining us once again, in person, as earlier in the year he had spoken at one of our WebDinArs, about "Hydrogen and the Economy". The opportunity to invite Sir Vince arose because he is on the board of a Bessemer member's company, Element-2 Ltd, formed when two members joined forces during Lock Down to seize the opportunity to establish a hydrogen distribution business for the UK commercial vehicle market.
Sir Vince Cable was Secretary of State for Business, Innovation and Skills in the Coalition Government of 2010-15, during which time, he presided, inter alia, over Industrial Strategy, innovation policy (including the establishment of the Catapult network) and business finance (including the establishment of the Green Investment Bank and the British Business Bank). As he reminded us, the Industrial Strategy Challenge Funds and the Business Growth Fund have emerged successfully since that period.
Before becoming an MP (for Twickenham) in 1997 (until 2019) Sir Vince had a variety of roles in business, government and academia, including as part of the Shell scenario planning team, and as Shell's Chief Economist. He is now mainly writing books (most recently on China, and there is another one on the way which will talk about his time in government!). His period at Shell makes him especially well qualified to talk about energy issues.
Speaking of COP-26 he said it was important to avoid the two extremes – the hype, such as it is all a disaster (Greta Thunberg) or the triumph (government PR). Rather it is a bit of both. On the positive, there is a lot more scrutiny now of carbon emissions, which should not be denigrated. The biggest triumph however was that the president of the USA and China agreed to work together, even if President Xi was not at the conference to confirm this.
Vince is becoming something of an authority on China himself having just published, "The Chinese Conundrum: Engagement or Conflict". The problem for the world he says is that China is too big to ignore and too difficult to work around. It is the largest emitter of carbon emissions and so it must be at the table. However, he thinks the Chinese mindset is uncomfortable to be tied down to quantitative targets imposed by the international community. This does not mean that they are not taking the impact of carbon emissions seriously he adds, citing Sir David King, former Chief Scientific Adviser, who has many positive things to say about how China is progressing in this area.
COP-26 struck him how business seems to going ahead of government for the first time, now that both big financial institutions and industry are taking decarbonisation very seriously from which he sees no turning back. Still, unless there is follow through from government industry can waiver. He gave the example from his time working in the Scenario Planning Group of Shell (which I knew well during my time in the City as a very pioneering strategic planning group). They had put developed a "Sustainable Future" scenario which the board went on to adopt as a result of which they closed down their coal operations and adopted natural gas. However, when after ten years, there was no evidence that governments were taking seriously carbon emissions and a sustainable future (for example, still no carbon taxes introduced as had been promised), Shell's management back tracked on the sustainable future and invested in heavy oil (tar) fields in Canada, undermining their efforts to embrace sustainability.
Vince is now excited about the potential for hydrogen, the economics of which he believes are now firmly established with Element-2 making rapid progress. [As a comment, one of our corporate partners, Johnson Matthey, recently switched from batteries to a Hydrogen Strategy while both Rolls-Royce and TATA Steel are embracing it as well].
SIR ROBIN SAXBY AND WARREN EAST IN CONVERSATION
It was a new idea to have our keynote speaker in conversation with the Awardee. However, given the close association formed between them, it seemed a natural way to add further interest and colour to the occasion.


Robin warmed things up with some early reminiscences. Warren then spoke about his fascination with Arm's architecture and how it led him to write applying for a job. Robin delegated Tudor Brown to handle it (also at the dinner) who was by then the founder responsible for finding the right people to recruit. Warren arrived at 4.30pm to meet some of the founders, and at 6pm was invited to have a "few minutes" with Robin. He left Robin's office at 10.30pm. On the way home he called his wife to tell her, "I must work here!" He had been convinced by Robin's powerful vision and by his dedication to spend so much time to explain it to him. Later Robin, rather modestly pointed out that his family decided to stay at their home in Buckinghamshire, which was also much more convenient for Heathrow (as he was always travelling), and he would stay in Cambridge during the week (and therefore had nothing better to do in the evenings!). Warren in turn added that he thought Robin was "quite weird" but completely inspirational.
At that time Arm was only supplying 40,000 of its processors a year to Acorn, yet Robin's vision was for every person on the planet to one day have an Arm processor. That added up to 5bn microprocessors 20 years ago. Since then, Arm has actually produced over 200 billion processors beyond even Robin's imagination. How remarkable, said Warren that such a "tiddly little company", could have such a vision.
One reason said Robin was never to manufacture – "over my dead body", as he put it. The most important thing is the people: it needs a culture of team work. "If the team works, everything works". The important thing is to build trust and find people who you can truly trust. In Arm's case it entailed a culture of brutal honesty; not one of divide and conquer.
Warren agreed. He said the only thing that differentiates a company from competitors is its people. The other metrics are more or less the same, but people can't be duplicated. The quality of leadership is what matters at all levels of management. At Arm he looked for managers who could also be CEOs and at Arm most of them could. It was therefore a shock when he arrived at Rolls-Royce that he could not find many potential CEOs. At his first executive board meeting he left the room worrying whether he had made a mistake to accept the job. The very first thing he did therefore was to change the executive team.
One guest asked Warren whether he agreed with the view that industry is ahead of government after COP-26, and if so, perhaps it is because people trust businesses more than government to deliver. Warren acknowledged industry is taking more leadership but government is still essential to follow through. Robin was worried whether politicians (or anyone) could handle the tremendous changes caused by globalisation – it would be harder for Arm now for example to establish itself while the USA and China are fighting to secure a trade advantage. What is needed however is a global perspective. Final thoughts were about supply chains as solutions are not developed in isolation but must involve the whole of a supply chain.
ACKNOWLEDGEMENTS
Sincere thanks to Freeths law firm for partnering with us.
DINNER SPONSOR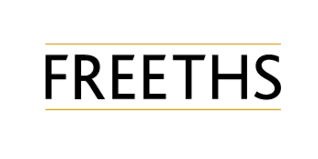 Freeths is a leading, full service commercial law firm with 12 offices across the UK. The Legal 500 and Chambers legal guides consistently rank its lawyers in their top tiers. The entrepreneurial focus of the Bessemer Society aligns well with its own culture and aspirations.
Alex Stewart
Founder and Convenor