Sept 16 2021
Venue: Worcester College
The Evening
The purpose of the evening was to demystify the battery sector for an investor audience. Nearly 30 investment firms attended from out of a total of 105 guests. The event comprised a (gentle) Dragons' Den, Self-Intros by Bessemer members, speakers at dinner, discussion and active networking.
The Venue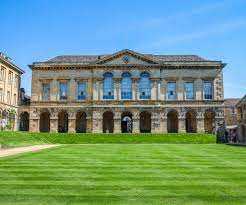 In the photograph, the Dining Hall is located behind the colonnades, occupying half the space of the ground floor, with its entrance to the far right. Beneath it are medieval cellars which have been converted to a student bar, to which 40 or more of the guests repaired after dinner. The perfectly mown lawn in the foreground is a feature, forming wave-like patterns in the grass. The Dining Hall seats up to 120 people. It was decorated originally by James Wyatt in the 1770s, and would have been kept warm with a large open fire. Presently the walls are decorated a pale blue and looked very good in the subdued lighting; the drawback only is the level of noise in a room with a very high ceiling with many animated conversations beneath, but worth it to bring so many people together once more in close proximity.
THE SPEAKERS
HANNAH BOARDMAN:
Head of Automotive at the Department for Business, Energy and Industrial Strategy
DR CHRISTIAN GUNTHER:
CEO, Johnson Matthey Batteries
DR GRAHAM HOARE:
President, Global Operations, Britishvolt Ltd
INVESTOR SHOWCASE
Five companies were selected to showcase in front of three "friendly dragons" (but one of the companies, Ever Resource Ltd, had to cancel at the last minute). They were each given four minutes to put their case for investment. The judges had a total of 8 minutes to cross-examine. Under the skilful chairmanship of Bessemer's Oxford co-ordinator, Steve Bennington, the session gave an insight to the companies' vulnerabilities and opportunities.
THE GENTLE DRAGONS
SELF-INTRODUCTIONS
The self-introductions bring to life the depth of talent and excitement represented by the Bessemer membership. Each had only two minutes to communicate their USP, a recent milestone and the next goal on their road map. Eight companies managed to compress their lively introductions into just over 20 minutes.
MEMBER PRESENTATIONS
Jean Dela Verpilliere, Co-founder and CEO, Echion Technologies Ltd, Cambridge
Chris Wright, Executive Chairman, Faradion Ltd, Sheffield
Christoph Birkl, Co-founder, CEO of Brill Power Ltd, Oxford
Neill Ricketts, Founder and CEO of Versarien plc, Gloucs
Philip Johnston, Founder, CEO of Trackwise plc, Gloucs
Kevin Brundish, Co-Founder, CEO of AMTE Power plc, Scotland
Richard Hankinson, Director, Automotive, Unipart Logistics Ltd, Oxford
Robert Watson, Director, Electrical, Rolls-Royce plc, Derby
Diplomacy was needed to showcase Echion Technologies and Nyobolt, both of whom are competing to commercialise an anode material developed at different labs in Cambridge University (to make it more competitive still). On the day of the event, Nyobolt's CEO was filming in Cambridge and decided to let Echion Technologies have the platform rather present back-to-back. Nyobolt's Head of Strategic Programmes, Anna Wise, was on hand however to receive public recognition. What was encouraging is that a single university can produce two competing approaches and that both companies have been able to raise significant funding this year. It illustrates what a depth there is in the universities, albeit the founders and CEOs are both non-UK nationals!
SELF-INTRO SNAPS
Echion Technologies Ltd, Jean Dela Verpilliere
Faradion Ltd, Chris Wright
Brill Power Ltd, Christoph Birkl
Versarien plc, Neill Ricketts
AMTE Powe plc, Kevin Brundish
Trackwise plc, Philip Johnston
Unipart Logistics Ltd, Richard Hankinson
Rolls-Royce plc, Rob Watson
THE AUDITORIUM
The Auditorium is now one of the architectural features of the College shortlisted for the 2018 Royal Institute for British Architects' Stirling Prize. Situated by the lake, it was a perfect venue on a sunny late summer afternoon. The tiered seating accommodates 136 delegates, which was perfect for our requirement.
Auditorium viewed from one angle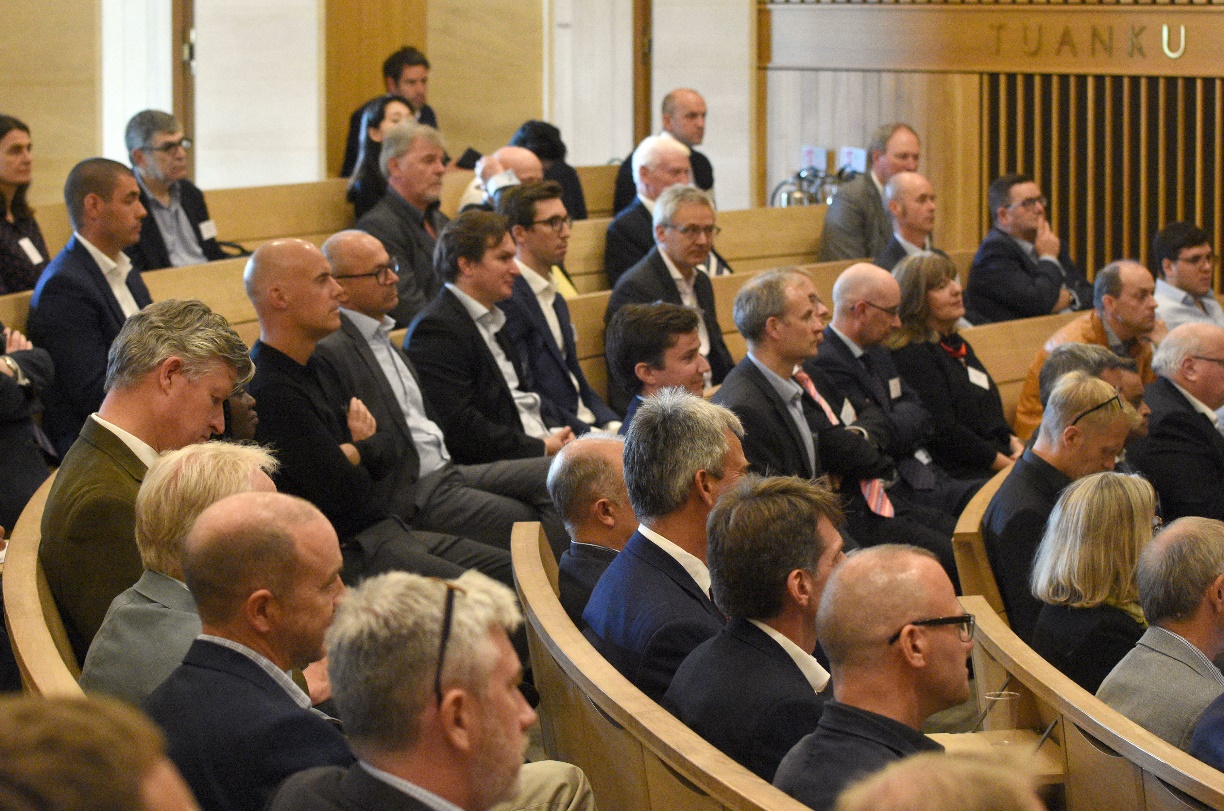 Attendees viewed from the other angle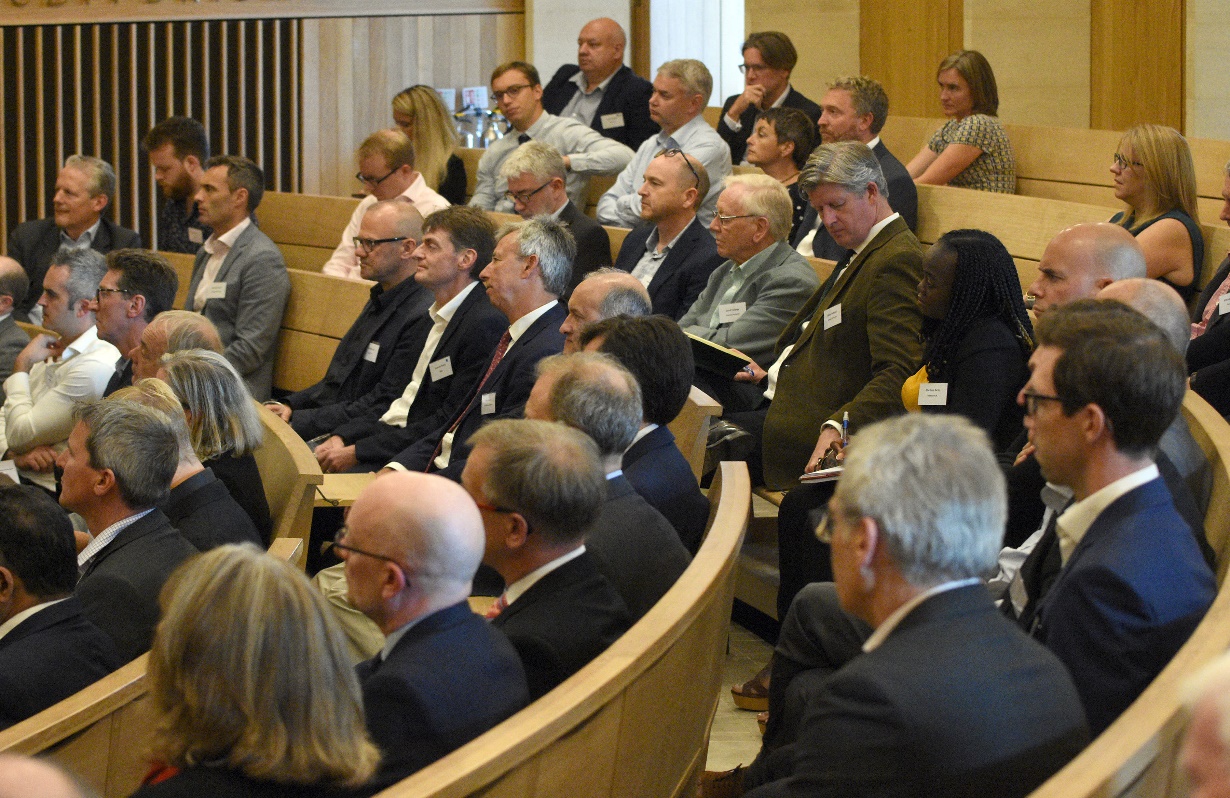 DINNER SPEAKERS
Hannah Broadman – BEIS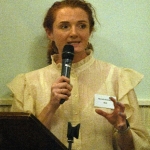 Hannah is Head of Automotive within BEIS so the ultimate go-to in regards to government policy. The sector she said is the "jewel in the crown" of government policy, and the heart of its decarbonisation strategy. It wasn't possible to over-emphasise either the importance that the Prime Minister ascribes to electrification she added, We discovered he is particularly boisterous about battery giga factories: on a visit to Number 10 Hannah had the opportunity to explain what she was working on and he went away repeating aloud, "we must have giga factories" at least five times like a Pooh Bear figure humming about honey.
Hannah emphasised the boldness of the decision to bring forward the ban on selling petrol and diesel cars to 2030, not least given the UK's automotive heritage, including specialist and high-performance brands, but the government has taken the bull by the horns to ensure electrification happens faster.
The Automotive Transformation Fund is helping industry to make the transition, and has disbursed £500million of its £1bn budget to date. Within this there is a huge opportunity for the UK battery industry and the government is in "lots of conversations with industry" to push this forward.
The Fund's investment extends to non-automotive such as aerospace which also fall under her responsibility –perhaps with a nod to Rob Watson of Rolls-Royce seated nearby. Other senior executives seated at the High Table who could benefit from proximity with BEIS were Johnson Matthey, Britishvolt, Unipart Logistics, Versarien, AMTE Power, as well as a representative of the Bessemer start up community, Steve Bennington, who is CEO of a disruptive wire harness automation business, Q5D, and co-ordinator of the Bessemer Oxford team.
Dr Christian Gunther – Johnson Matthey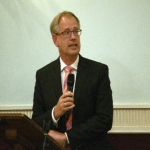 Christian took the place of Johnson Matthey's CEO, Robert Macleod, as speaker at the last minute, which was a perfect substitute as Christian is Head of Batteries at JM, now becoming the most important part of the company's business.
Christian joined the company as head of batteries in November 2019, which didn't give him much time to settle in before Lock Down. Despite the disruption to operations, JM has completed the construction of a new Battery Technology Centre near Oxford, opened by the Secretary of State, Kwasi Kwarteng, in May this year, which will enhance JM's development and test capabilities, notably for its eLNO (cobalt-free) battery materials.
The industry is undergoing tremendous change and Johnson Matthey is playing a central role we were told. By 2030, 55% of vehicles on the road could be battery electric, and 80% by 2035. To keep up with such rapid change is a challenge of course, JM is responding by taking a series of steps to build specific capabilities with the corresponding investment – the Battery Technology Centre is one example; there is also a new pilot line in Billingham in the North East to support battery sales; and outside the UK, JM is building a battery cathode plant in Poland with production starting in 2024; while more recently it announced a second plant to be built in Finland with three times more capacity.
Future opportunities include finding solutions for recycling critical battery materials and developing solid-state batteries. For solid state batteries it signed an MOU in August to join a consortium comprising the Faraday Institution, Britishvolt, Oxford University, the UK Battery Industrialisation Centre, Emerson & Renwick and University of Warwick. Christian pointed out there are further challenges to address around sustainability. Here JM is aiming to be carbon neutral in its operations by 2035. Sustainability he concluded will be at the core of its operations.
Dr Graham Hoare – Britishvolt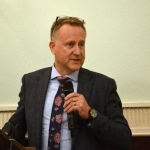 Graham has deep experience within the automotive sector, having risen to Chairman of Ford of Britain, and held senior engineering positions at Ford in America and the BMW Group in Germany, which also gives him a strong international perspective. As President of Global Operations at Britishvolt he can apply this to the benefit of the company and to the wider battery supply chain in the UK.
The government's decision to advance electrification and reinforce its commitment to achieve Climate Change goals is welcomed he believes by the automotive sector. The decision to restrict all new car sales to electric after 2030 was made for example while he was still at Ford.
In particular, in his capacity as Chair of the Automotive Council, he has worked closely with the government for several years on how the industry will prepare for electrification, not only within the car industry but to prepare the infrastructure which supports it, including roads and highways. There will for example need to be 500,000 charging points by 2025 which will require huge investment but he thinks will be achievable. The industry has been working towards this for the past 10 years. Now the tipping point has arrived and everything is moving forward faster, it is therefore an exciting time.
He believes Europe's plans to electrify are well developed, although China is further ahead in terms of scale of investment. The UK he believes will succeed through "back-to-back collaboration". He cited the Faraday Institution as an example of how well collaboration works. He called it the envy of the world, describing the role of UKBIC as a battery industrialisation centre as unique.
Britishvolt currently employs 100 people and will employ 3000 once the plant is operating fully. It is still operating like a start up, moving at pace, supported by a very responsive eco system which has included very quick planning permissions. The plant is due to start operating in 2023 with an installed capacity of 30 gigawatt hours.
To ensure the highest levels of energy efficiency it is planning to use the inter-connect from Norway (hydro power) and North Sea wind farms. As a result, it may achieve a carbon reduction to 25g of CO2 per kWh compared with a European average of 62g and 92g for China.
It will be important as well to establish a UK supply chain to satisfy the EU's rules of origins; by 2030 there will need to be at least five giga factories. As he said, after only 3-4 months in his new role at Britishvolt, it is clear how exciting the opportunity is.
DINNER SNAPS
Welcome to the Dinner
View from High Table
Dinner progresses
Conversation becomes animated
More engaged
and deeper…
AFTER DINNER
Time was made available after Graham Hoare's talk for discussion, Questions touched on the prospects for solid-state batteries; whether the grid would manage to supply enough power with a more developed energy storage network; and difficulties faced by smaller companies to enter supply chains.
It was a warm evening and it was clear that such a large number of people might prefer to continue networking outside and in the Cellar Bar with tables outside. At least 40 of the attendees took advantage of this. Over 30 had booked accommodation at the College so had more opportunity still to linger and round out a tremendous evening, completed by breakfast in the Hall the following morning.
ACKNOWLEDGEMENTS
Sincere thanks to our Industry Sponsors for supporting the evening.
Lead Sponsor

INDUSTRY SPONSORS



SERVICE SPONSOR
EVera is the only recruitment firm to specialise solely in the battery sector.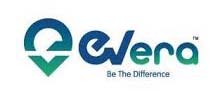 Alex Stewart
September 29th, 2021