Puraffinity: the Imperial College start-up which plans to clean-up the world
'Great oaks from little acorns grow'. That is a proverb that resonates with Henrik Hagemann, chief executive officer at biotech start-up Puraffinity, whose company began life as an idea in an international science competition and is now backed by private capital to the tune of several million pounds.
The London-based green technology company, incorporated in 2015, is focussed on designing smart materials for environmental applications such as removing human-made pollutants from water and wastewater using an easily deployed adsorbent media. Puraffinity has proven the technology in the laboratory before certification and is now looking at a significant scaling up of production.
"We started as an Imperial College research project idea up against 250 other opponents in an MIT-hosted science competition, finishing in second place," says Henrik Hagemann. "Since then, we have been on an incredible journey – both in terms of developing our technology and raising the funding for expansion. Now we enter a new phase. We are doubling our lab footprint in London and expanding our manufacturing capacity as we look to bring products to market."
Protecting the environment and human health
The technology is a novel targeted adsorbent material that can selectively capture micropollutants, including pesticides, pharmaceuticals and harmful chemicals like Per- and polyfluoroalkyl substances (PFAS) from wastewater.
For over 60 years, PFAS have been used in the manufacturing of many products, which has led to their widespread release into the environment. The specific properties of PFAS make them extremely resistant to natural degradation in soil and water. Regulation around the world is now setting PFAS maximum contaminant levels to mitigate pollution exposure.
Puraffinity's technology combines chemistry and material engineering expertise to architect molecular structures that exhibit a high affinity towards target compounds and can bind them effectively. The result is a new class of targeted adsorbent media that selectively captures contaminants such as PFAS.
The technology has a broad range of potential applications, including environmental remediation, potable water treatment, industrial manufacturing facilities and commercial airports and military bases – where the use of Aqueous Forming Foams has resulted in environmental challenges related to PFAS contamination in groundwater and run-off water.
"We are targeting areas with the highest levels of environmental pollutants," says Henrik Hagemann. "We have been focussing heavily on material science, testing, and certification. Now we need to start concentrating on upscaling our manufacturing capacity. At present, it stands at 5 tonnes of capacity per year. But it needs to reach tens of thousands of tonnes."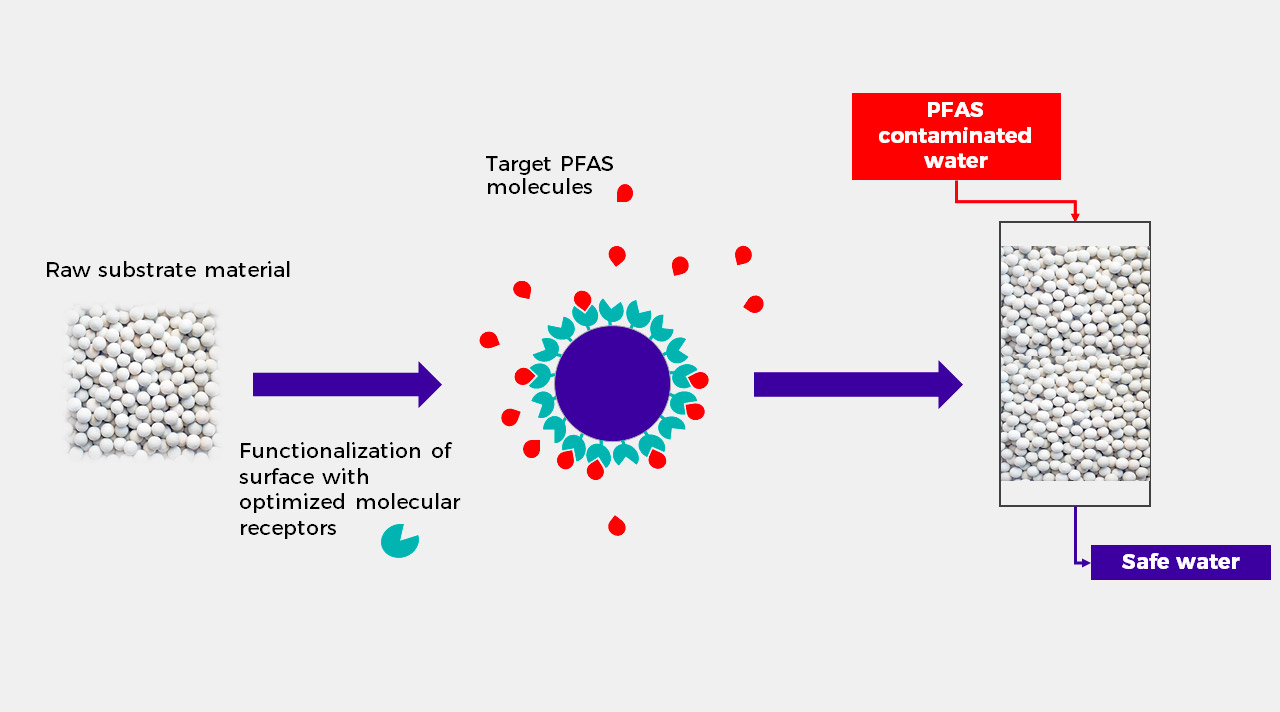 Finding the right people
Such widespread potential usage for a patented technology means Puraffinity has created high excitement in investment markets. It has been through oversubscribed seed-round funding worth several million pounds. It is backed by organisations such as Kindred Capital, which operates an equitable venture model where the founder of the organisation becomes a co-owner of the fund.
With the technology and finances in place, the hardest part of growing the company has been accessing enough qualified people, says Henrik Hagemann. "We have lots of people interested in joining us, but they don't have the right types of skills, either in terms of behavioural understanding of working in a start-up environment or meeting the right level of technical expertise.
"The other challenge has been around the area of diversity. London is around 40% black and Asian minority ethnicities, and we want to reflect that. We are not forcing it – but we would like to see it. It has been a real effort because there are just not enough candidates in those categories in the pipeline yet. Which is a pity."
Looking forward, Puraffinity is clearly on an upward trajectory and appears to have a very bright future ahead of it. For Henrik Hagemann, personally, he is relishing the opportunity to take the company forward. "I like building something new. I am working in an environment that challenges me daily, with people who have a diverse range of perspectives and some great ideas. It is very rewarding and, often, it is rather humbling too."
Henrik Hagemann on The Bessemer Society
Why do you find value in attending Bessemer Society events?
"There are many barriers to making introductions to fellow CEOs of hard-tech businesses. Often it just comes down to geography – we are spread out across the UK, doing real stuff on the ground, rather than located in the same area. So, it is great to meet up at the Bessemer Society with like-minded people and to have dinner and talk."
What sorts of conversations do you value the most?
"The conversations can be very varied. I might be thinking about finding fit-out companies for a new facility, and someone can share their thoughts on this subject, having just finalised a tender for similar work. We can compare notes on these kinds of issues or more tactical, high-level topics. That is valuable. It is hard to find elsewhere."
Have you made any long-term contacts at Bessemer Society?
"Yes, I have. Some people have become friends. Pre-COVID, we have met up outside of the Bessemer Society to catch up and share ideas. I am relatively young for a CEO, so the chance to learn from others who have built companies and overcome the challenges around scaling up is beneficial."