TOWN HALL, LIVERPOOL, APRIL 10TH 2019
The purpose was to bring together a range of senior executives involved in developing and promoting a hydrogen economy in the North West. Liverpool is building a powerful case for government support led by our partners at the dinner – the North West Business Leadership Forum, Peel Holdings and the Liverpool City Region Combined Authority.
The Venue
The venue reflected the period in Britain's mercantile history when Liverpool was the dominant port trading with the New World – an impressive late Georgian building with enormously high ceilings and doorways. When the Queen is in town it is where she is entertained.
SPEAKERS CORNER
Amanda Lyne
Amanda is Chair of the UK Hydrogen and Fuel Cell Association and the Managing Director of a local start up. ULEMCo, which converts diesel heavy goods vehicles to hydrogen fuel. This gives her particularly good insight into all aspects of the hydrogen value chain of how to convert high tech innovations into commercial reality.
Mike Muldoon
Mike is responsible for business development at Alstom UK, especially Alstom's world leading hydrogen train programme. Alstom is working with a local train builder in Widnes, Cheshire, near Liverpool, to convert rolling stock to hydrogen power.
Simon Fairman
Director for Network Strategy and Safety at Cadent Gas which gives him a very broad remit across the UK. In his capacity as responsible for network strategy he is helping Cadent Gas to prepare for a low carbon future in which the role of hydrogen gas is a foremost priority.
Tony Smith
Commercial Strategy Manager at Peel Gas & Oil, which is part of Peel Holdings, the largest industrial property owner and developer in the north of England. In the North West it owns key assets which could form the arterial network for hydrogen transportation, including Liverpool Docks and the Manchester-Liverpool Ship Canal.
SELF-INTRO SESSION
Self-intros take place in a separate room and provide the opportunity to find out the kind of companies attending and the important things members and guests are doing.
Brendan Bilton: A serial entrepreneur, based in Liverpool. Brendan has been CEO of several companies, including ACAL Energy, which developed a novel fuel cell system. Brendan is a member of the Bessemer Society and served as our main Liverpool link for the dinner.
Andy Creeth: Andy was one of the co-founders of ACAL together with Amanda Lyne (the letters of their names). He is now a lecturer at the University of Chester and the CEO of AC Chemicals Systems which is developing a completely new method of electrolysis.
Ben Todd: Ben is originally from Liverpool, but his company, Arcola Energy, is based in London. It has secured the contract to convert Liverpool buses from diesel to hydrogen.
Carl Arntzen: CEO of Worcester Bosch, the largest home and commercial boiler company in the UK. Despite his German name, Carl points out he is 100% British, not transplanted by Bosch in Germany after they acquired Worcester. The company is in the vanguard of developing hydrogen fuelled boilers in the UK.
Dave Horton: Chief Engineer of start up train manufacturer, VivaRail, based in the Midlands. Despite only being formed in 2012, VivaRail is already building electric and hybrid trains for qualification by customers.
Mike Lodge: CEO of Arvia since 2013. Arvia based in Manchester has a novel method for the reduction of hard-to-treat organics, micropollutants and colour from water and wastewater streams.
Paul Warwick: Paul is the major shareholder in Powerhouse Energy Ltd  which has licensed Waste2Tricity, a company he is assisting to build a plastics recycling facility on a site owned by the Peel Group outside Liverpool, with the aim to generate heat and power to the grid.
David Smith: Director of Central Research, Rolls-Royce. Dave is the eyes and ears at Rolls-Royce scanning for Future Tech.
Jon Beasley: Director Technology and Projects at the Advanced Propulsion Centre, which promotes and supports investment in Electric, Hydrogen and other low carbon fuel solutions.
VIEW OF SELF INTRO TALKS
Separate room for self-intro talks
Mike Lodge, CEO of Arvia Technologies
David Smith, Director, Rolls-Royce
Andy Creeth, AC-Chemical Systems
Dave Horton, VivaRail
NETWORKING
After the Self-Intros the networking continued until dinner.
Simon Fairman, Cadent Gas
Ben Todd, Arcola and Steve Bennington, Q5D
Who's Who..
Jon Beasley, APC with Rob Rule, Hexadex
Amanda Lyne, ULEMCo, and Mike Muldoon
East Meets West: Mr Morita of Marubeni and Tony Smith of Peel Group
THE NETWORKING AREA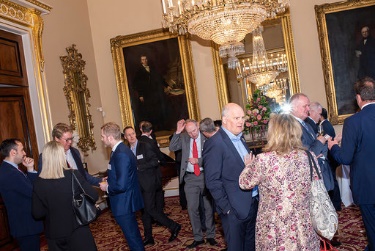 THE DINING AREA
SUMMARY OF TALKS
Premise
The premise of the dinner was that the opportunity to establish a Hydrogen Economy in the North West has arrived for reasons which include:
Recognition by central government that Hydrogen must form part of a transition to a low carbon economy in order to achieve 2050 Global Climate Change targets.
Similar recognition in other advanced economies, notably Germany and Japan, while in the case of China it has been argued that hydrogen is its ultimate goal.
The Northern Powerhouse initiative which favours the development of large scale infrastructure projects across the north.
The investment case for a Hydrogen Economy now being promoted vigorously by private companies, local governments and LEPs in the NW region.
Government policy
To give an example of how Climate Change is influencing government policy, Mike Muldoon told us how the former minister for transport, Jo Johnson, gave a challenge to the rail industry to decarbonise rail by 2040. Because the operational life of a train is around 35 years this is a significant challenge. Alstom was responding by developing the first hydrogen trains in public service. The low carbon challenge meant the elimination of diesel trains in 20 years after the past 70 years of development.
Making a transition to a low carbon economy is a chicken and egg problem – there isn't demand until there is the promise of enough supply. Building the supply infrastructure is extremely costly, so government has to provide the leadership and initial financial support to pump prime it. Amanda Lyne pointed out too there also needs to be working examples of large scale hydrogen facilities, so that industry and investors have confidence to invest in commercial-scale facilities.
Communication
All speakers mentioned the vital necessity of communicating clearly to government the importance of hydrogen in order to secure the necessary level of support for pump priming the hydrogen economy. The public too have to be educated. This is not for the first time, as the gas industry converted from town gas to natural gas 50 years ago. The shift to hydrogen would be less complicated because the gas pipeline network already exists.
North West Business Leadership Team
Strong leadership is being provided by the North West Business Leadership Team (NWBLT), led by Emma Degg, who partnered with the Bessemer Society to organise the dinner. The NWBLT is a body representing the largest companies and organisations in the North West. It has formed a group specifically to lobby government in favour of hydrogen in the North West. It argues that the region has the potential to be one of the most advanced low carbon industrial regions in the world.
Hydrogen and Electrification
The other problem the government has faced is how to support the development of a hydrogen economy at the same time as supporting the electrification of the transportation sector. Mike Muldoon gave an example of how hydrogen and electrification can co-exist in the rail sector where hydrogen trains are more efficient on regional and local networks, while electrification is the most efficient method for inter-city high speed trains.
Role of gas
Simon Fairman pointed out that the electricity industry currently depended on gas for base load, peak power generation and back up for renewables, and that 50% of the UK power generation capacity was from natural gas. He added that delivery of heat to the home is an essential service in times of cold/extreme weather. To put it in context, during the 'Beast from the East' weather event, the heat energy supplied to the North West was 31 GWh (peak hour) for almost all of the day. If this heat energy was moved on to the electricity grid it would require the equivalent of 10 Hinckley Point C power stations (and we still wait to see the first one completed!).
Heavy industry
The UK economy still retains indigenous capacity in heavy industries, like Cement manufacture, Chemicals, Steel and Glass making, which makes hydrogen attractive as a low carbon energy vector linked to Carbon Capture and Carbon Utilisation (CCUS). Simon Fairman was passionate about the importance of retaining this capacity by using advanced technologies to decarbonise them rather than allow further "hollowing out of industry" by importing high carbon embedded materials.
Regional competition for funding
The government is building up a proposal for CCUS which is considered essential to the deployment of a hydrogen network. There are four potential hubs under consideration: NW, NE (Teesside), Scotland (Grangemouth) and South Wales. Since there will be limited funding available all the speakers made the point that the North West has to fight hard to make the very best case for investment (both financial and political).
The case for the North West
The case in favour of the North West is the composition of its existing industrial base and infrastructure, including:
Inovyn Chlorvinyl (formerly Ineos Chlor) which owns and operates the UK's largest chlor-alkali plant at Runcorn in Cheshire. Hydrogen is produced as a by-product and it is the largest producer of hydrogen in the UK.
Inovyn, ITM Power, Storenergy, Cadent Gas and Element Energy are exploring the feasibility to establish a 100MW Proton Exchange Membrane electrolyser on the Inovyn site for industrial scale hydrogen production, which would currently make it the largest in the world.
Hydrogen pipelines exist which connect Inovyn's site at Runcorn with Solvay at nearby Warrington; and another which connects BOC's St Helen's site to Pilkington Glass.
Gas pipelines exist which can transport CO2 to underground storage caverns under the Irish Sea.
The Liverpool-Manchester Hydrogen project involving the Peel Group, Cadent Gas and others aims to utilise the Manchester-Liverpool Ship Canal as an arterial route and gateway for a hydrogen pipeline.
Bessemer entrepreneurship
Befitting a dinner attended by many entrepreneurs, several voiced the opinion that rather than wait for government it was important to seek opportunities, using their 'smarts', as American companies do. The Peel Group, for example, have developed an area of industrial land as a location for low carbon energy generation, waste recycling and hydrogen production; Waste2Tricity is siting its first plastics recycling plant on the site. Another example is Arcola Energy, which has secured a contract to convert Liverpool City buses to run on hydrogen and is now establishing a manufacturing facility locally.
Smarts
The best example of 'smarts' we heard perhaps is VivaRail, a builder of complete trains, which was only established in 2013. The company was set up by rail veterans, using a kind of Formula-1 fast track team approach. They have already built an electric battery train which is being trialled by one of the rail networks. The principal shareholder in VivaRail is an American industrialist, so that may help explain the 'American smarts' as well. It is the first example I know of where an American industrialist has backed a UK start up to help it reach its potential. It would be interesting to find out if there are others. For a Bessemer audience it makes VivaRail a definite company to learn from, so watch this space…
ACKNOWLEDGEMENTS
Our sincere thanks to our two sponsors who have been long terms supporters of the Bessemer Society.
The Law firm, Clarke Willmott
The Patent Law Firm, Mewburn Ellis LLP


Sponsor Shot
Alex Stewart
April 29, 2019