Cardiff City Hall, Sept 13th, 2018.
THE VENUE
Cardiff City Hall looks more like the Tuileries Palace in Paris than a City Hall. The entrance is relatively modest but opens into a marbled hall that could find itself at home in Buckingham Palace. There were over 60 attendees, the largest for a dinner so far, putting some pressure on the facilities. The tight space however ensured we enjoyed our usual collegiate atmosphere.
Aim of evening
The aim was: 1) To promote the Compound Semiconductor Cluster in South Wales; 2) To link other centres and key players. We were supported by the Newport Wafer Fab Ltd and IQE plc in the first aim, and the Compound Semiconductor Applications Catapult in the second.
Linked Up
An advantage of the Bessemer Society is that our members are located nationwide, from Edinburgh to Plymouth, and Swansea to Suffolk; also we are multi-sectoral. This makes us good at making and linking connections. The proof is that there were many serendipitous encounters during the evening, which continued at the bar of the Hilton Hotel across the road into the wee hours.
Keynote Speakers
Dr Drew Nelson: Founding CEO of IQE plc, the leading epi wafer manufacturer.
Carl Ennis: Managing Director of Siemens Energy Management, a major energy infrastructure equipment supplier.
Stephen Doran: CEO of the Compound Semiconductor Applications Catapult, based in Cardiff.
SELF-INTRO SESSION
Each Bessemer Dinner has a 2-minute self-intro session for selected members and guests.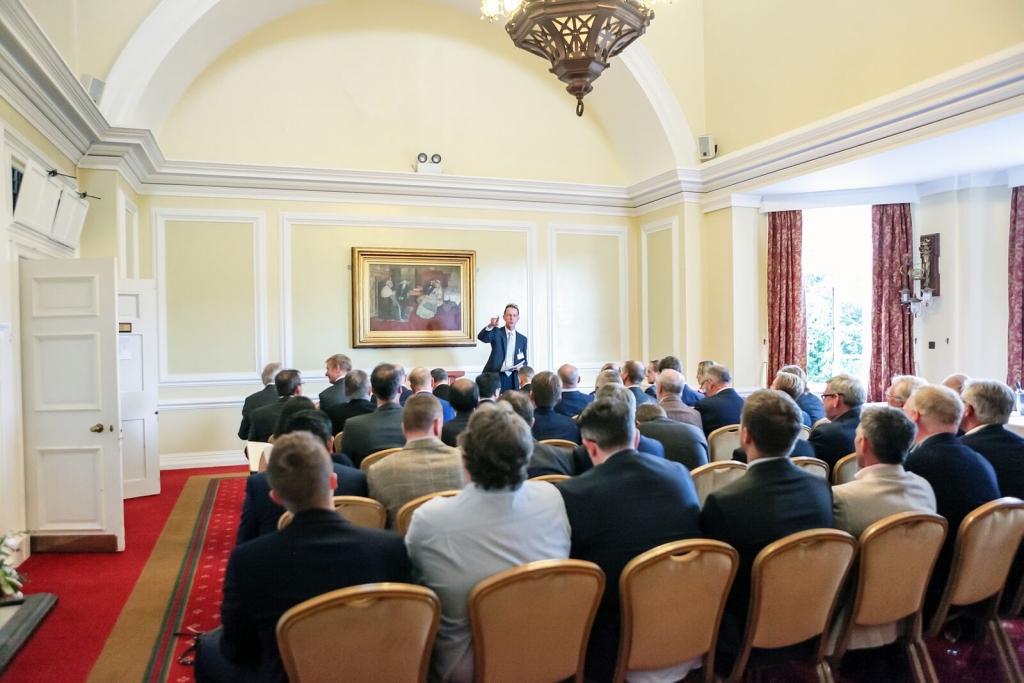 The Self-Intro Session getting underway with standing room only at the back
Ann Hughes, Founder and managing director of Pegasus Chemicals Ltd, a supplier of precursor chemicals to the semiconductor industry, based in Cheshire.
Sam Evans, Director of Quality and External Affairs, Newport Wafer Fab Ltd, and both key supporter of the dinner and of the South Wales "CS Connected" Cluster.
Jill Shaw, Co-founder and CEO of Anvil Semiconductors Ltd, which has devised a method to make 3C-SiC epitaxy on large diameter silicon substrates in conjunction with Plessey and Cambridge University. A joint venture, Kubos Ltd, has been established to exploit it.
Gareth Jones, a photonics specialist and entrepreneur based near Cardiff, recently established Digital Farming Ltd to use the latest LED, and other technologies, to optimise production of nutritional foods in indoor farming.
Lucy Liu, a director of Deregallera Ltd based in Cardiff, which is developing a sodium ion material that will have similar performance to lithium, but at a fraction of the cost.
Prof Diana Huffaker, Director of the Institute of Compound Semiconductors within Cardiff University. The Institute provides cutting-edge facilities to help researchers and industry work together.
Prof Sir Colin Humphreys, Director of the University of Cambridge GaN Centre, span out Cam GaN Ltd, which was acquired by Plessey Semiconductors and is now working with Kubos Ltd.
John Tinson, VP Sales at Sondrel Ltd, the leading IC Design Services company in Europe.
Robert Watson, Director of Electrical at Rolls-Royce plc, previously Chief of Staff to the CEO.
SELF-INTRO SPEAKER GALLERY
Speakers create expectation by giving a short introduction to what they are doing and what they want to contribute or expect to receive from the evening.
Stephen Doran, Compound Semi Catapult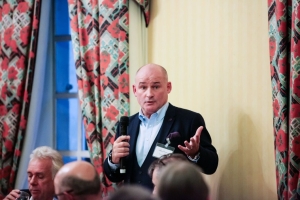 Stephen forged his early career in the semiconductor corridor between Edinburgh and Glasgow, known as Silicon Glen. It was an obvious career choice when he entered university as the industry was booming. Eight years after graduating, however, most of the American and Japanese semicon multinationals had left. He called it humiliating and awakening at the same time to realise how little control the local economy had in a globalised industry. "I had to move south to find work", he lamented.
It wasn't much better in the south, but he joined Raytheon UK where he later became the managing director of the company's plant in North Wales which was a supplier to the UK's defence industry. When he considered applying for the post of CEO of the Catapult, the fate of Silicon Glen was in his mind: the problem was the plants in Silicon Glen did not own their IP; whereas in the South Wales Compound Semi cluster, the IP foundations are extremely strong, anchored by IQE. This is the basis on which a supply chain can be built, to avoid the fate of Silicon Glen.
He pointed out the confluence of megatrends that favour the Compound Semi industry, such as 5G, IoT, Autonomous and Electric Vehicles, AR/VR, and so on. The role of the Catapult is to link the centres of excellence and supply chains to address these markets. The Catapult also offers a bridge between ambitious SMEs and their customers higher up the value chain by proposing and helping to broker opportunities, and then providing support to develop prototype demonstrators.
The size and growth potential of the semiconductor market differentiates it from other Catapults, he believes, quoting a forecast that the market could grow from $74bn in 2017 to $300bn by 2030. Currently the UK has about 9%-10% of the market.
The Catapult will shortly be co-located at a fab that IQE is fitting out at a former LG Electronics' plant near its head office and main manufacturing site. The new facility will have significant prototyping, design and simulation capabilities, which will help SMEs and others reduce time to market.
Stephen pointed out that the UK car industry faces a huge disruption as it transitions to an electric future that has to be managed carefully. It also offers a huge opportunity for the power electronics industry. The Stephenson Challenge is a proposal to address this as part of the government's Industrial Strategy, which the Catapult is supporting.
Carl Ennis – Siemens Energy M'gment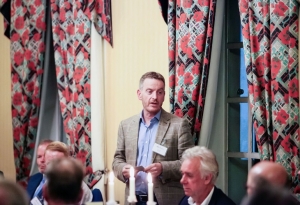 Carl is a deep Siemens man, having spent most of his career at the company, currently in charge of its Energy Management Group, the biggest entity in Siemens UK.
He began by drawing fascinating connections between William Siemens, one of the founders of Siemens, and Henry Bessemer. William arrived in England from Germany at the age of 19 and quickly established himself as a successful inventor and businessman. Henry, 10 years his senior, had also established himself as an inventor at the early age of 17 when he devised a method to protect title deeds by a method of embossing, but then 'gave it away' to the Post Office, which taught him a bitter lesson not to repeat if he was going to succeed in business!
Both were interested in steel: Henry invented the basic oxygen process; William found a way to improve it; and both were foundational to how steel has been manufactured since. Both were recognised with knighthoods: Sir Henry's in 1879, Sir William's in 1883.
Carl concluded: "Henry and William were cut from the same cloth. They surely admired one another's inventiveness, entrepreneurial spirit and business sense. They'd be delighted that the names of Bessemer and Siemens have come together again this evening!" Hear, Hear!
Carl then touched on how changes in the clean energy market are creating the need for advanced semiconductors in power management devices in order to handle greater frequency fluctuations on the network. Western Link is an example of one of the largest energy projects in the UK, which will carry renewable power from Scotland to England, managed by stations supplied by Siemens. Siemens is also supplying the converter stations that connect the UK grid to mainland Europe, which currently handles 4 gigawatts and could handle 30 gigawatts by 2030.
In electric vehicles he noted that advanced semiconductors could make it possible to connect car batteries in a distributed system which stores surplus energy from the grid. The future of semiconductors he said will be in areas like this "and others we haven't thought of".
Bessemer entrepreneurs would be interested to know that Siemens has established a venture capital fund of €1bn, called Next 47, which is named after the date that Siemens was founded in Germany. The fund is a signal that Siemens is trying to go back to its roots and become more entrepreneurial.  He left us to consider the irony that Siemens in UK was established in 1843, four years earlier, a detail still resisted at Siemens head office, he added. As for us, we can support Siemens UK and call it, 'Next 43'!
Drew Nelson – IQE's Visionary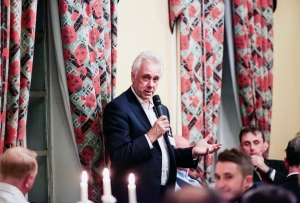 Drew co-founded the future IQE in 1988. He started his career at BT Research Martelsham in the  early 1980s, after a PhD in Opto-electronics, joining the team developing the components and processes that are the foundation of broadband communications today.
BT Research was then a global centre of research in optic fibres and broadband, but sadly all that survives of the UK's global lead is IQE's position as the leading supplier of the epiwafers for compound semiconductor chips, which are bought by companies like Huawei in China for their broadband equipment. Now Huawei supplies 100% of  the UK market, so, while the UK earns a few million dollars from selling wafers, Huawei makes billions selling the equipment. How did BT find itself without a market, "which it almost invented", and allow a state-backed Chinese company to dominate it?
The founder of  Huawei is supposed to have got his break after leaving the army and meeting the premier of China to whom he explained that telecoms equipment was like national security; "it would be like not having an army," he is reported to have said. As an aside,  the word "Huawei" is another way of saying the "real China" in Chinese.
IQE supplies epi wafers which are turned into chips through several process steps carried out by companies usually based in the USA and Asia which are then sold to companies like Huawei. South Wales now has a cluster capability which could carry out many of the process steps itself and improve the efficiency of supply, says Drew, which he calls a "sovereign capability" and what he wants the UK compound semiconductor industry to establish. His mission, and message to the dinner guests, he made clear, is to make the government understand this (like Huawei did).
The purchase by a local consortium of private investors of the former International Rectifier fab in Newport outside Cardiff after it was put on the market by Infineon, has created an Open Access facility and foundry which is attracting business to the cluster. Chinese companies could be major customers partly because it helps to protect their IP (from competitors in China). Local control of the Newport fab is giving the cluster teeth, which incluces SPTS (now part of Orbitel), MicroSemi and others.
Drew reminded anyone with a long enough  memory how in the 1980s the government established a consortium of heavyweights, including BT, Plessey, STL and leading universities, to strengthen the UK's lead in fibre optics. The same needs to be done now in the compound semiconductor industry, he concluded.
Discussion Period
Points raised during the discussion included:
There is an opportunity to reduce the very large deficit in vehicle component imports through a joined up strategy for electric vehicles where the UK has leading technology. This is a supply chain issue for the UK.
WMG has a key role to help the transition from petrol to electric vehicles. One initiative is the Stephenson Challenge that the Power Electronics Industry is proposing with the objective to create five million motor drives worth greater than five billion pounds per annum. The South Wales Cluster and other parties, including AESIN, are pushing this.
The CEO of SPTS, Kevin Crofton, pointed out SPTS is a local company and a global leader in equipment for manufacturing MEMS devices, which has £400mil turnover, 97% exported. Loyalty is built on things like how customers' IP is protected, repeating a point Drew made. He added that SPTS's success proves it is possible to win internationally. The formation of the South Wales cluster, 'CS Connected', shows there is an appetite to succeed locally, based on the competitive advantage that the cluster enjoys as an IP powerhouse.
There could be a mandate to require large companies like BT to buy more from UK suppliers as part of a national strategy. This could borrow features of the US government's SBRI procurement programme which helps small companies to build their supply capability.
An advantage Germany enjoys is that government encourages a Made-in-Germany supply chain mentality, which is often vertically integrated and self-contained. However, it was pointed out that Germany could also have problems if it holds on to markets too long as a result of government pressures.
Lower labour costs in China or low land prices are not the main reason for Asia's competitive advantage, since Singapore is a major semiconductor manufacturing centre, yet is one of the most expensive cities in the world. Instead, it is more about factors like skills, education, and supply chain location.
WMG has 1200 students on its manufacturing training courses of which 50% are Chinese commented another. A related problem is that higher paid service jobs, especially in the City, distract talented individuals from pursuing careers in manufacturing-related fields.
NETWORKING BREAK OUT


DINNER BEGINS


DINNER GUESTS CONSIDER…


DEBATE & DISCUSSION


ACKNOWEDGEMENTS
The organisation of the dinner was made possible with the support of the Compound Semiconductor Applications Catapult, Newport Wafer Fab Ltd and IQE plc. Who also all gave a financial donation to the dinner.



SPONSORS
We are very grateful to the IP Law firm, EIP, and to the law firm, Acuity Legal, for sponsoring the dinner.
Alex Stewart
October 13th 2018